Our Story
"One should either be a work of art, or wear a work of art" – Oscar Wilde
Jesse (Suthep) has been in the tailoring business for over 30 years. As a family-run store with roots starting in Udonthani serving mainly American GIs that were stationed there, Jesse expanded and moved to Bangkok to open "Bangkok Fashions" under a business partnership. After serving and building relationships with both international and local clients for over 3 decades, Jesse has now opened his own flagship store called "Jesse & Son," bringing along invaluable lessons and intimate knowledge of tailoring.
Men and women that enter Jesse & Son not only seek the best of workmanship and personalized service, but along they discover a world of quality, attention to detail and a passion for fabrics.
We pride ourselves on keeping things fresh by balancing tailoring tradition with modern designs, cuts and innovative creativity. This core philosophy allows us to fulfill our aim to raise the standard for an unmatched tailor-made experience appreciated by both the unseasoned and the enthusiast.
Store Interior & Exterior
What Clients Are Saying
I must say I couldn't be any happier chancing upon J&S Custom Tailors which is run by both father (Jesse) and son (Manop). The looks of the store is very elegant and modern. It even has a mini bar with a drink list on a blackboard whereby you could order while choosing your materials and getting measured! You even get to choose your own detailing and customization of your work shirts. Both certainly know what suits you best. I will definitely recommend anyone who wants to make a suit/shirt/pants to visit them! You won't regret it!
We immediately took note of the immaculately merchandised store....I went through every detail of the suit, and I was fitted and out the door, while never feeling rushed or pressured. I had my second fitting soon after and then the final fitting which was magical; a term I don't use loosely, considering we swam with elephants the prior day. It was by far one of the best customer service experiences my wife and I have ever had, and she worked at Nordstrom for two years...
I am Italian and used to Milan-standards in terms of tailors and clothing. Now that I live in Bangkok, I am incredibly glad I met these two serious and pleasant professionals, who can do their job with NO compromise on quality and attention to details. I would recommend them to anyone, particularly the most demanding people who are looking for top fabrics and style in the design of their clothes. Since I met these two gentlemen, I miss Italy a tiny less. Finally some quality and style in the hearth of BKK.
I had to get something custom-made when I was Bangkok & I got 4 shirts made from J&S. I came back the next day to try on one of the shirts and I was very impressed with the quality and fit. I started second guessing thinking I should have got a suit. I then saw another gentlemen trying on a suit he just had made and was even more impressed. I couldn't believe how good it looked and especially for the price. I immediately got fitted for the same suit & it fit perfectly. I highly recommend them and will be having more shipped home soon.
Located just a few steps from the Asoke BTS station, the store itself has an inviting atmosphere that makes this particular 'shopping' experience quite enjoyable. I was able to choose everything from the lining piping to the button hole direction. No detail went unnoticed, and they gave me some great advice on style and fit for my needs. Jesse and his son Manop's effective communication coupled with the high quality products guaranteed that I would become a regular customer. I would recommend them to any traveler or expat who expects quality from their tailor.
Read more testimonials
Why Us?
We give you six simple reasons.
1
Style Consultants
We guide you on what suits your body type, taking into consideration your lifestyle and personal tastes. We provide you with stylish, creative ideas from trims to collar styles, but the final decisions about the fine detail of our garments are down to you, which is how we ensure you have the bespoke experience. You are the focal point of the design process.
2
A Perfect Fit
Each client has his own individual pattern cut to exacting measurements. Every item is handled by a master tailor and his highly skilled tailors, to engineer your clothes to be comfortable and functional without ever foregoing the "fit." A tailored garment made for you, fitting you to perfection is a principle we adhere to.
3
Beautiful Fabrics
The best selections of fabrics are available at your disposal, from ranges of finest wools to cottons and linens, to suit your price point. We are honest about our fabrics because we value our reputation deeply. All our fabrics are supplied by certified agents, and all our suitings come with world-class Bemberg linings, as used in brands Zegna and Hugo Boss.
4
It's In The Details
As a team, we always pay attention to the smallest of details such as using only Mother of Pearl buttons as the standard on all our shirts, real horn buttons on our suitings, to customizable collar-felt and button-hole colors. We also make sure all clothings pass our high quality control standards before they leave our store.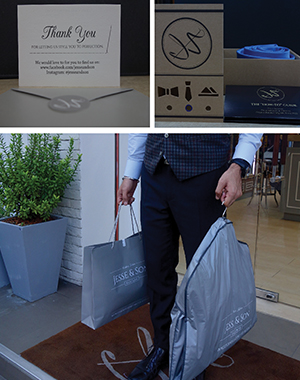 5
Commited To Value
We boast a quality that is not found at our price points. Being committed to this value means, a continual focus on having more of your money go towards the product over any other retailer, and a continual pursuit to providing excellent customer service and overall product quality. All items offered at our store are sold at fixed and fair prices for all our customers.
6
Recommendations
Our clients range from high profile politicians, chairmen of corporations, to managers and bankers, whom have always maintained excellent relationships with us over the years. We have been introduced to their friends & families and find utmost satisfaction when recommended. We focus ourselves on long-term relationships by consistently providing quality products.