Our Custom Tailoring Process
"I am easily satisfied with the very best" – Winston Churchill
We welcome walk-ins but encourage appointments made before-hand so that we can ensure proper time allocation and preparation to serve you well. Having a clear vision of what occasion you need your clothing for would make it easier for us to steer you to the correct style, design, fit and fabric. Clients can bring pictures or sample garment pieces for referral and replication.
1. First Visit
Designing and Placing an Order
You will be assigned to one of our representatives who will discuss your tastes, preferences, and requirements to create a garment built to your fit and physique.
Fabric will be chosen for specific items you are interested in, after which exact measurements will be taken.
You will then choose from an array of designs (through our custom-tailoring menu, magazines, look books, etc). You will get to customize each detail (based on our detailed form and guidance), to construct a garment of your entire choice. Fittings will be arranged according to your availability. Remarks- We provide you with welcome drinks from our signature bar every time you pay a visit to our store.
2. Drawing
After the initial consultation, the tailor will take the measurements as well as notes on build, stance and posture.
A pattern is created for your suit accordingly. Every garment has its own individual pattern, according to the style that had with consulted with the client.
It is then archived by the Master tailor for future use.
3. Cutting
Once this pattern is drawn to over 20 entries of customer's measurements, a Master Tailor then cuts it by hand.
The suit is made under his or her personal supervision to the exacting standards.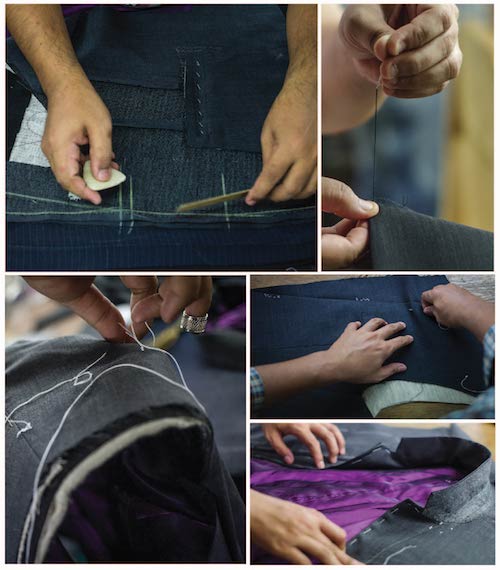 4. Stitching
By using expertise and instinct, two-dimensional panels are stitched to your specific measurements and your design requirements.
The suit is assembled into a form-fitting garment with the fabric pattern matching at the seams of the garments.
5. Fitting
This is when you get to try on the garments for us to make sure everything fits the way you want it to and oversee all garment details are accounted for. Jackets and shirts will have your desired fit, for example, to your torso, arms, length, and waist suppression. Pants will ensure comfort in your crotch and seat areas, and cuffs will be according to your desired width. Advice will be given every step of the way if required and we always encourage your feedback throughout the process to ensure you have the "tailored for you" experience. We will alter the garments according to them to ensure perfection of fit and details.
Further fittings can be arranged until you are fully satisfied. If several jackets, shirts and pants are ordered, the first sample made will be used as specification to base remainder pieces.
6. Pick-up / Delivery
This is when garments will be perfect and ready to be received.
When you are content with all clothing items and wish to receive them at your hotel or residence, we offer this service for free after our quality control process has been complete. This is usually the final fitting where garments will be perfect and ready to be received.
Our quality control team will ensure that every item is in order and pack them beautifully for delivery or for carry.